Teaching in Engineering Education
Motivating our Students for Student Engagement, Progression and Retention
Please cite as follows: Chan, CKY (2015). "Motivating our Students for Student Engagement, Progression and Retention", Engineering Education Enhancement and Research Asia (E3R Asia).

Introduction
Apart from teaching students the necessary fundamental concepts and theories, the role of a teacher also involves motivating students' learning and facilitating students to develop their transferable skills to prepare for the real world. If teachers understand students' motivation, it can greatly enhance the classroom experience and students' performance as well as facilitate their teaching. Thus understanding students' motivation is a key factor in student's successful learning.
Student motivation is highly related to the student's desire to actively participate in the learning process. In understanding student motivation, concerns about the reasons or goals that underlie their involvement or non-involvement in academic activities are examined as well. There are two streams of motivation that governs a student's desire to learn: intrinsic motivation and extrinsic motivation (see diagram below). Intrinsic motivation is influenced by the student's need to fulfil an interest, thus learning is for the student's own sake and for the joy it brings, and the feeling of accomplishment in what learning brings. Extrinsic motivation is influenced by the need for recognition, praise and/or reward, thus learning is for economic and social reasons. Student's motivation is also related to student's perception to learning (Prosser & Trigwell, 1999).
Accessed from Savage, Birch, & Noussi (2012)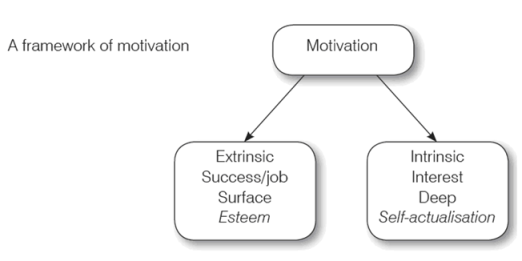 References:

Savage, N., Birch, R., & Noussi, E. (2012). Motivation of engineering students in higher education. Engineering Education: Journal of the Higher Education Academy Engineering Subject Centre, 6(2), 39 - 46. Retrieved from http://journals.heacademy.ac.uk/doi/pdf/10.11120/ened.2011.06020039
Prosser, M., & Trigwell, K. (1999). Understanding learning and teaching: The experience in higher education. Buckingham: SRHE and Open University Press.